First Lady, Chandra Bell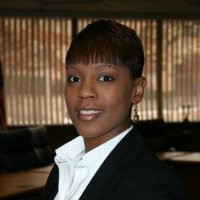 First Lady, Dr. Chandra Bell
The Triumphant Church of God family mourns the passing of our beloved First Lady, Dr. Chandra Bell. Lady Chandra was greatly loved by her family and her church family. Her grace and sophistacation was an example for all who had the pleasure of meeting her. She truly loved the Lord and served Him with all of her heart.
As the First Lady of Triumphant, Lady Chandra has served in various ministry capacities: as a member of the Triumphant Leadership Team, TCOG Women's Ministry Leader, she provided organizational leadership to B.A.S.E Children's Ministry and Ignite Youth Ministry. Lady Chandra's competitive spirit always made the annual church picnic a treat. Her volleyball challenges always brought out the best in everyone.
Lady Chandra earned her Associate's degree in Social Services Technology from Columbus State Community College, her Bachelor's Degree in Social Work from Capital University, her Master's Degree in Community Agency Counseling from the University of Dayton; and her Ph. D in Higher Education Administration from Ohio University. She served as the Director of Career Services and an adjunct instructor at Columbus State Community College.
In addition to her devoted husband of 21 years, Pastor Vaughn Bell, and their two daughters, Sydney and Kyndall, Lady Chandra leaves to cherish her memories, mother, Earlene Johnson; siblings, Lee (Kelly) Johnson, Touynda (Fred) Smith, Yolanda Johnson, Mavis (Alec) Roberts, Michael (Tracy) Johnson; mother-in-love, Judith Bell; brother-in-law's, Victor (Alicia) Bell, Vernon (Andrea) Bell; and a host of aunts, uncles, cousins, nieces and nephews.
Funeral services were held on Sunday, May 7, 2017 at the First Church of God, 3480 Refugee Rd, Columbus, OH 43232.